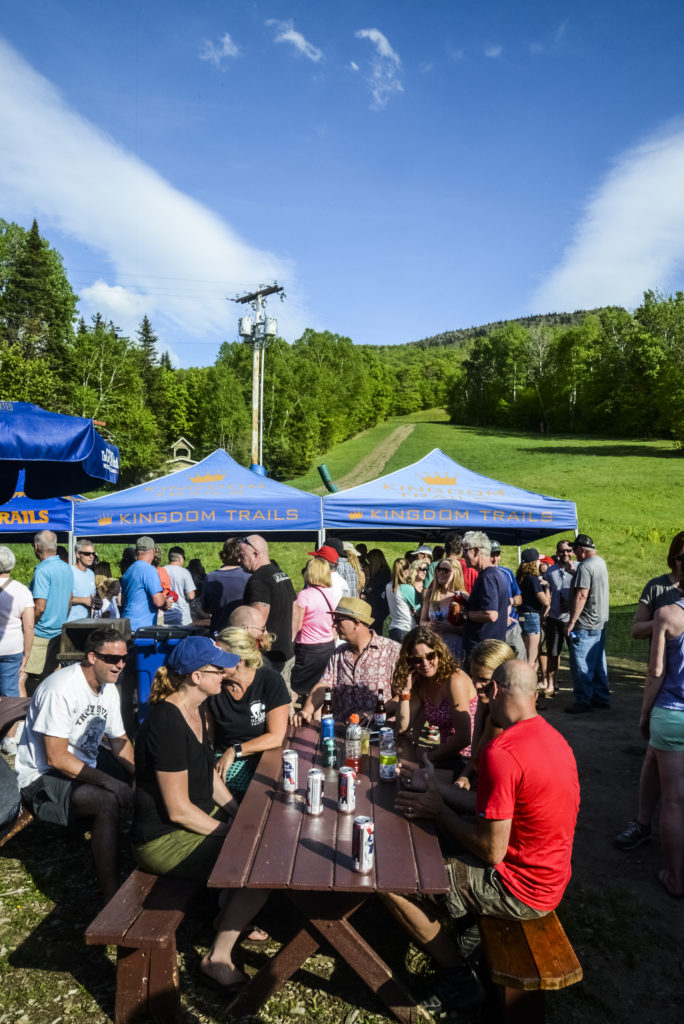 More than 300 people celebrated the re-opening of Burke Mountain, on Saturday, May 28, 2016, at a party held at the Bear Den, and co-sponsored by the Friends of Burke Mountain, Inc., Kingdom Trails, the Burke Area Chamber of Commerce, and Burke Mountain.  Kingdom Kids is a nonprofit organization that helps provide passes, lessons, and equipment to Burke area kids for skiing, snow boarding, and mountain biking.
"This is what our new non-profit is about," said Michael Sher, President of Friends of Burke Mountain.  "We are asking the nearly 4,000 members of the Friends of Burke Mountain Facebook Group, residents, and those who are committed to the long-term success of Burke Mountain to join us by becoming members ($27 for individuals and $54 for families) or by making contributions at friendsofburke.com/contribute," Sher said.
On a beautiful summer day, Sher told the crowd what exactly the nonprofit aims to accomplish.
"Let's get right down to it.  Here is what you get when you join or contribute to Friends of Burke Mountain. Ski areas and resorts around the world have community funds and foundations to help bring together residents, pass holders, second homeowners, and visitors to support the local economy and create jobs and to support local nonprofit organizations such as Kingdom Kids. That's what we are going to do."
Sher urged Friends of Burke Facebook members among the crowd to join the nonprofit advocacy organization, saying "it's easy to write a comment or like a Facebook post," we need support for the advocacy work we are doing every day, including working to restore jobs that were lost due to the alleged EB-5 fraud."  He said that, according to the U.S. Department of Commerce, for every 1 job restored or created at the Mountain and Hotel, 3 jobs are created in the community.  And, for every $1 that is spent at the Mountain and Hotel, $3 are pumped into the community.  Sher continued, "we also want to make sure that whoever buys Burke Mountain understands the spirit of True North.  We don't want an owner who is going to pave paradise and put up a parking lot.  You can ski, board, or bike in other places if you want that."
Also addressing the crowd was Steve Olson, CEO of Leisure Hotels and Resorts, the Resort's management company in receivership.  Olson sees a bright future for Burke and was encouraged by the big turn-out.  Sher thanked Olson with "a big thank you to Steve Olson, who is responsible for turning around distressed resorts around the country, for everything he is doing for Burke, and for choosing to spend his holiday weekend with us."
The master of ceremonies for the event was Tim Tierney, the Executive Director of Kingdom Trails, President of the Burke Area of Commerce, and a Director of Friends of Burke Mountain, Inc.  Sher thanked Tierney for his years of giving back to the community and for helping make Burke is Back a great success.  Special thanks also go to Alivia Bertolini Libby, the Executive Director of Friends of Burke Mountain, Inc., Friends Event Chair Peter Trojano, and all of the volunteers who made the event possible.