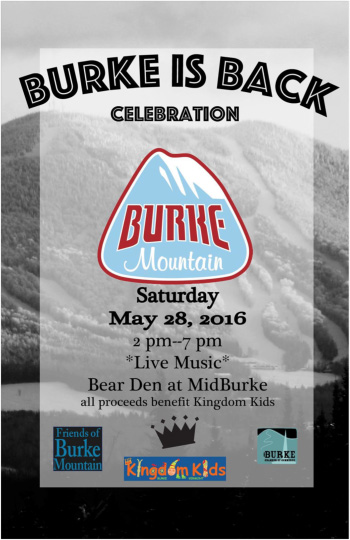 Burke is Back! On Saturday, May 28, 2016, from 2PM to 7PM, we will celebrate the reopening of Burke Mountain with an event at the beloved Bear Den. We are hoping for an overflow crowd, with plenty of room for celebrating outside, for this event cosponsored by Leisure Resorts and Hotels, the Mountain's management company, Friends of Burke Mountain, Kingdom Trails, and the Greater Burke Area Chamber of Commerce. The event is a fundraiser for Kingdom Kids, a nonprofit organization that provides passes and ski, snowboarding, and mountain biking equipment to Burke Area kids with limited financial means. The new management team will also answer questions relating to the receivership and to discuss winter ski and ride Operations. The management company, which has been extraordinary, has extended first tier winter season pass prices until July 11.
Raffle prizes include:
The Mid Burke Cafeteria will be open in addition to the Sherburne Base Lodge, Biker's Edge Patio, during bike park hours for food and beverage service.
Live music begins at 4:30pm and will end around 6:30pm.
Special thanks to Receiver Michael Goldberg for reopening the Mountain, Steve Olson, CEO of Leisure Resorts, for everything he is doing for the Mountain and the community, Tim Tierney, the inimitable Executive Director of Kingdom Trails, President of the Burke Area Chamber of Commerce, and Friends of Burke Director (just to name a few) for his extraordinary work on the event, Friends of Burke Events Chair Peter Trojano, and Jessica Sechler, the stellar marketing manager of Burke Mountain.